THERES NO PLACE LIKE HOME
A Social Practice Art Project
Pauline Beatrice Goggin
Artist
Welcome to this website and welcome to this memory project.
​
The area in Limerick City, known as "The parish", King's Island and simply "The Island Field" is the site of this exploration.
​
A Memory Project: Return From Oz.
​"We're not in Kansas now, Toto!"
In The Wizard of Oz, Dorothy's comment, above, to her faithful pet is but one of many metaphorical references from a film that has motivated an exploration of Kings Island, in the heartland of the City of Limerick. As a metaphor for consciousness, it has also provided a gateway to a community and place, in order to access collective memory and to recuperate trace and archive that has been subsumed and forgotten through local development projects in a relatively short period of time.
 I became curious as to how a memory of a complete community, like that at Castle Barracks could be forgotten in less than one generation and set out to see what else had been lost. In March this year I was able to locate some of my earliest class mates from the parish school of St Mary's. Located in Bishop St., It was where I had first seen this film and I was curious to see if there were others who remembered it when it was shown in the school assembly hall in the late 1950's.
​
​
​
​
​
​
​
​
​March 31st 2012, St Mary's School Hall, Bishop St., Limerick.​​​
I was able to locate people who had attended the school and some who had worked or who had a particular involvement through work or study and we gathered to witness a re-screening of the film and enjoy an afternoon tea in a cafe setting. This event started a conversation on the themes mentioned above that has been continuing through different activities and I am including some of the images here.
​
​
​
​
​
In the light of the recent Regeneration Project in Limerick, and from reflections on previous "regeneration" projects, within the island parish of St. Mary's I have initiated a series of social interventions, beginning with a screening of The Wizard of Oz in St. Mary's school hall, allowing the symbolism contained in the film to open a conversation about displacement, Memory, Loss and Identity with people who had common experience within this geographical location.
The resulting meetings and activities with an invited community of interest were based in and around the island territory in the heart of Limerick. Interventions which ranged from the film screening and afternoon tea, to an exploration of the island by boat and foot, have awakened memories, experience, past identity, stories of displacement and re-location, the effects of which, are still being felt today. One such memory included Castle Barracks, a corporation housing scheme which was located at King John's Castle from 1932 until its demolition and erasure in 1989 to facilitate development of the tourist attraction.
Witnessing gaps and empty spaces and the appropriation of site, where once were homes and thriving communities, in many parts of the island, has stimulated my own political questioning. The community of St Mary's Park was scheduled for demolition as part of a redevelopment plan (2007) which has now been stalled due to the present financial climate. Residents are living with the evidence of a dying community on a daily basis. The house at No 99, St Munchin Street, seen here, was home to four families since its construction in the early 1930's. It was removed in 2009 along with many others in the neighbourhood.
In excavations of embodied social memory in wounded city space, I hope to progress a practice of social engagement in the witnessing of haunted sites, geographies of loss and with an acknowledgement of the role of archive and collective memory as resistance to hegemonic town planning practice and an antidote to collective societal amnesia in the politics of memory.
I believe that an aware social practice and sustained creative activism can open possibilities in a socially responsible, place–based art practice.
"Theres a white line going through the front door of my house now"
A comment made by a former resident of Athlunkard Street , March 5th 2012.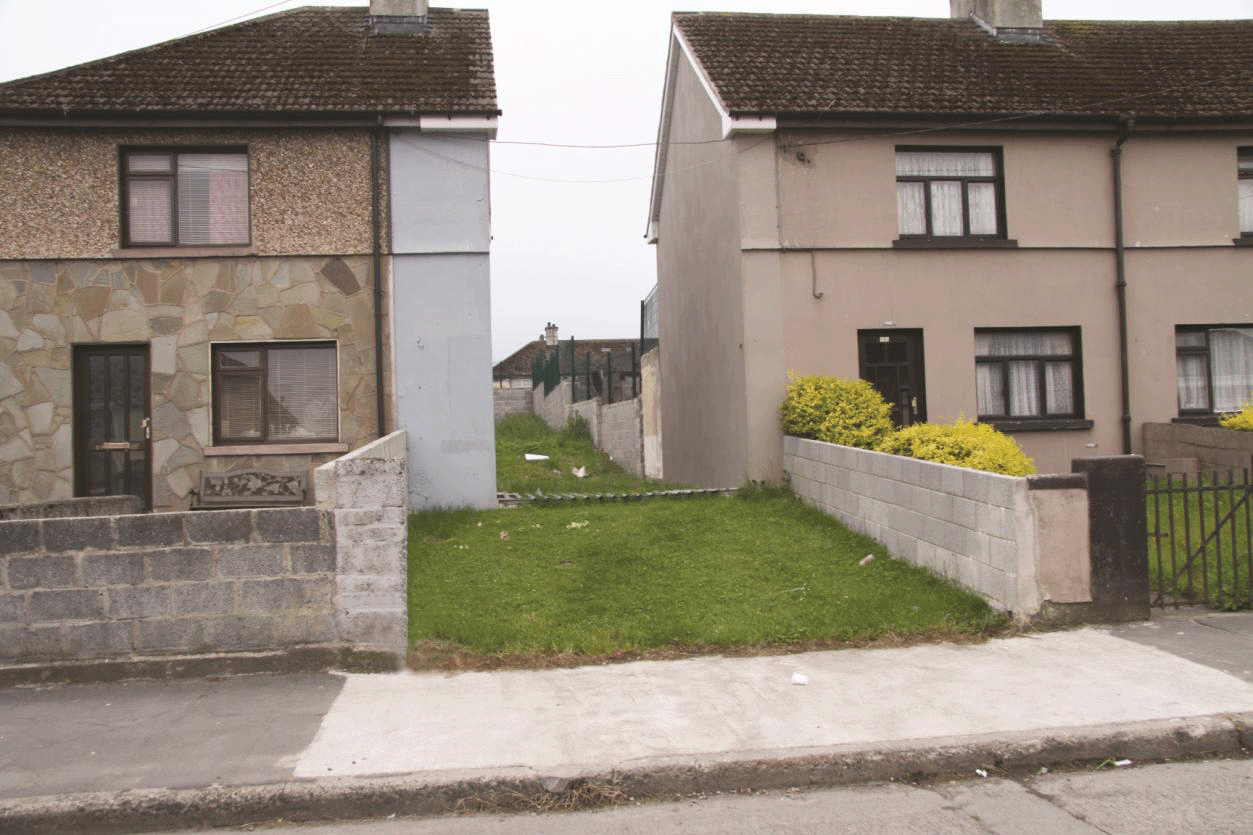 No. 99, St. Munchin Street, St Mary's Park, Limerick.
March 31st 2012. St Mary's School Hall, Bishop Street, Limerick.
"On The Desire For The Political….Intimate Publics produce feelings of solidarity and belonging……being welcomed/recognised… you just need to show up and listen…. Separating the political from politics….making an intimate demand on the past, present and future…..reclaiming an embodied sovereign politic…Mass demands for social change…fighting passionately for the State to embrace its public function." Lauren Berlant, Cruel Optimism (2011)
May 8th 2012. A circumnavigation of The Island, captained by Pat Lysaght, preparation of the crew by first mate, Marie.
Even though we all had an experience of The Island, The Parish, King's Island, as home place, school or work, none of us had seen the island bank from the river perspective. The journey around the perimeter, became a space of information, consideration and reflection on issues of riverbank maintenance,city development, planning decisions, tourism and the communities that made up the Island's population.

The social adventure became a platform for the political, a space for the citizens to voice their views and opinions.
Comparisons were drawn between the riverside developments in Limerick, London and Paris.
The(boat) conversation linked the local with the global.
​
​
​
​
​
​
​
​
​
​
​


​
​
​
​
"


​
​


​
A few Moments later she returned with some photographs of the old
house that had been replaced with a new medical centre.
Nurse Liddane, the community nurse had lived there.
From Baal's Bridge, Limerick. May 8th 2012.Photograph: Geraldine Harrison.
Each bridge prompted conversation. Five bridges in all, O'Dwyer Bridge, Abbey Bridge, Baal's Bridge, Matthew Bridge and Thomond Bridge. Each allowing access to the Island that forms the heart of the city of Limerick.
"That was our back garden wall"
Images show the Castle Barracks housing scheme, built inside the castle keep in the early 1930s with Mary's house visible and the demolition of the estate in the late 1980s
May 30th 2012: A walk on the Island
May 12th A walk on the Island
"Where are ye from? Are ye tourists?" questions asked as we walked through Kings Island in the early evening of May 30th 2012.​
It seemed incredible to the questioner, that local people would have an interest in the locality or the area, especially after 7pm. "Join us" we suggested. "I will..... wait while I put away my messages"
A few Moments later she returned with some photographs of the old house that had been replaced with a new medical centre.
Surprises and remembrance of hidden symbols, the heart in the convent wall